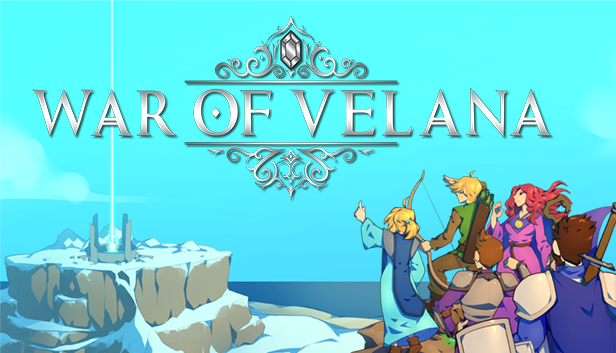 War of Velana
A downloadable demo for Windows
Free updated demo available now!
War of Velana
is a single player 16-bit RPG that combines world exploration and interaction with an orthographic grid-based tactical battle system. In many ways, War of Velana is a spiritual successor to the Shining Force series on the Sega Genesis. Elements of those games are the core, and combine with some design ideas from Fire Emblem and Final Fantasy Tactics to create a new tactical experience. In War of Velana, your characters have static classes and gain a variety of skills and equipment upgrades as you progress through the game. In between combat, you'll be able to explore and interact with the world around you.
Setting:
The world of Velana, in its current state, has four nations:
Alta, a royal kingdom of sprawling green fields, meadows, and riverlands.
Kovell, a nation with a wide plain of autumn-gold, a dark forest, and a northern tundra.
Ishdar, a small desert island nation of artisans and warriors to the far east.
Jakka, a jungle archipelago with towering mountains and devout monasteries.
Story:
Our story starts in Alta near the foothills of the Goravia Ridge, outside the small village of Pell. A pair of hunters close in on their mark. As they make their way back to the village, they run into Jon, a trader who frequents the northern roads. They help him repair his cart, but quickly realize that bandits have taken over their home. Events continue to unfold and the party bears witness to a mysterious encounter and potential sparks of a new war.
Characters:
Arnen, a hunter from Pell Village. He is skilled with a bow and keen to help people. Arnen lives with his sister, Karissa.
Krell, a hunter alongside Arnen. He wields an axe and is learning to cook from his grandmother's journal
Dolvis, a soldier from Dellador City. He is a sword and shield fighter and vows to right wrongs in the world.
Prym, another villager of Pell, she left for a number of years to train in magic at the Archive in Glasmere. She takes care of her sister Pryscilla.
Karissa, Arnen's younger sister. She is a priest in the Velana Order and has been training in healing and holy magic for the last year.
Gameplay Overview
Grid-based tactical combat based on unit speed. Each unit moves in Turn Order, rather than Player-vs-Enemy phases.
Unit inventories can be managed in and out of combat. Equipping items and even trading them between units is possible and doesn't count as a turn action.
Each class has different magic spells and weapon skills to learn. Though you may find two allies of the same class, each will have unique abilities and different stat growth ranges.
When a unit levels up, their HP, SP, and stats increase based on growth ranges for their class. Melee units will focus on Attack, Defense, or Speed growth whereas casters will focus on Magic and Resistance, in most cases.
There are many allies, items, and secrets to uncover all over the country of Alta. As you adventure around, you'll be able to interact with most everything you see, talk to townspeople and visit all sorts of shops.
In battle, you'll have an active party of 8 units to face off against enemies. You can configure your active party before or after combat, but not during.
There are many areas around the world where enemies gather. While you're never required to engage them, you can choose to enter combat and hone your skills or earn some extra gold.
The demo covers the first chapter of the game and is about 90% content complete. There will be additional bug fixes, side content, and other improvements added as we have them ready. If you play the demo, we'd love to know your thoughts or any issues you encountered along the way!
Patch Notes for War of Velana 0.2.0.8
* Completely rebuilt UI
* New Status Screen with inventory management functions.
* Item and Stock clusters have been removed since that functionality is on the Status menu now.
* Party Screen functionality has been rebuilt but not altered.
* Notes Screen with Tutorials, Gameplay Reference, and Bestiary (wip).
* System menu is now integrated into the main cluster menu.
* New combat animations including a full overhaul of character animations.
* New music tracks have been added to new scenes and replace some old music in existing scenes.
* New sound design for enemies, spells, attacks, and UI.
* States are now implemented (Buffs, Debuffs, Ailments) and state-related items are now working!
* Jessia is now added to the game as an ally (with new scenes relating to her joining the party).
* Rita now has one of her two hunts for you to do once the main demo storyline events are complete. (after Jessia joins)
* Dialogue speech blips are integrated.
* New sound design for UI and many attacks and enemies.
* Wolf enemies have been removed from the game and replaced with Rock Grumps.
* Expanded world text to include more object types, rocks, and more.
* Completely redone and upgraded many tilesets and objects.
* Completely redone Chapter Screen with new art and music.
* Completely rebuild and redesigned Shop UI with easy switching between Buy and Sell functions.
* Fixed various bugs in Save and Loan functions
* Fixed SFX timing
* Added alt keys for keyboard control (Esc/Enter/Tab)
* Added white glow range to show active unit
* Added spell ranges on hover
* Fixed Arnen dying after battle Victory
* Fixed various spell positions
* Fixed UI bugs involving input prompt icons
Download
Click download now to get access to the following files:
WOV_Demo0.2.0.8_windows.zip
279 MB
Comments
Log in with itch.io to leave a comment.
Hey! You interested in collaboration?
Hey I noticed that whenever I try the demo, it ends up becoming too big for my laptop's screen for some reason. By that I mean some part of the game is cutoff as if my screen isn't big enough.
Hi there, sorry for this issue! The current demo is built specifically in 720p so if your monitor size/resolution isnt scaled from that it'll cut off parts of the screen. We're working on an update that will eliminate this issue for all screen sizes, but it isn't ready just yet.
I just finished the demo and I think I'm in love 😍
This was a really great experience and scratched that tactics rpg itch I've had for a while. The environment art is really well done, especially the cave tileset. I'll admit the only tactics rpg I've invested more than 10 hours into is Fire Emblem so I'm unfamiliar with the mechanics of the Shining Force games. I have a few suggestions that might help with the development of the game for people like me:
Keyboard controls weren't listed in the game so I had to button mash every key to find out how to do basic things.
A dedicated visual tutorial on how combat works should be implemented. I spent the first few battles struggling to understand how to use Prym. I was unaware her real attacks were in the specials menu for the first few battles.
Although I beat the demo I still don't know what exactly happens when units fall. If the countdown reaches 0 then are the units gone permanently?
This isn't related to gameplay but I think the dialogue could use some revising. I don't know the personality of any of the main characters. What are their personal motivations? Why are they fighting? What's their relationship with each other? Why is Arnen the main character? Dolvis is literally a random person who just decided to tag along for no reason if I remember correctly lol.
But with these problems aside, I can't wait to see the finished product! I'm excited to see what next in the story. Keep up the good work!
Thank you so much for playing and I'm glad you enjoyed it! There a number of things we'll be adding to the demo to inform the player better, and I need to update some stuff on the itch page as well!!
Hey guys, just wanted to drop you a line and say "great work!" A worthy tribute to the Shining Force games. I'm really enjoying the game a lot, everything from the story, sprite work and music just hit all the right SF nostalgia buttons.
As a fan of the Shining Force series, I enjoyed playing this, it is really well done. A few things:
Bugs:
- When Karissa heals - other player's health bars will increase, but the animation does not play when she heals herself.
- In the shop, the Yes / No confirmation does not load when buying / selling, an extra button press is needed to make it visible.
Also, the fact that the shop automatically asks if you want to sell your lower weapon when buying a stronger one is excellent.
Thanks for the feedback! The self-heal HP bar bug is on our list to fix, I'll note the shop Y/N as well!! And yeah we wanted a good amount of quality of life features in shops and other areas. I'm glad enjoyed that!
Do you think you will ever port this to mobile
It's possible! Our plan is PC and Mac release and then consoles, but mobile ports could be on the table as well. Nothing is guaranteed right now for ports, however.
Wow, that looks fantastic! Very unique and original graphic style! I'll give the demo a try.